MESSAGE
JFRONTIER inc.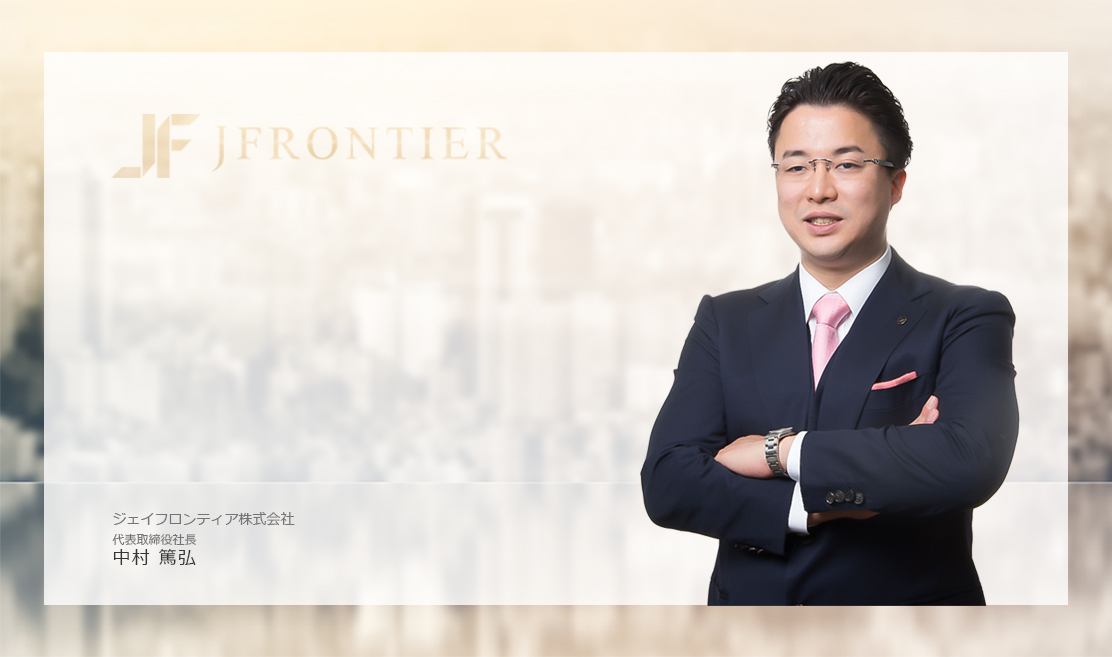 Introduction
Thank you very much for seeing our website.

JFrontier inc.

In order to contribute to the beautiful and healthy lives of customers, we plan, develop, manufacture, sell healthcare-related products and manage mail-order sites.

In addition, by offering a wide range of expertise such as ad agency business and overseas expansion, we carefully support all sales promotion of client companies.

In order to contribute to society through these businesses, we are working on business with the whole company.
The thought of JFrontier
Our company began with Internet advertising agency business in the health care field,

We have carried out comprehensive sales promotion support ranging from product planning, sales promotion, sales, wholesale and mail order sales.

At the time I was working in a condominium room, there was only one employee.

The only thing that was the only thing in the absence of people, goods, money, was confidence without evidence of "making it the world's best company".

After that, we planned and developed our original products based on advertising agency business and mail-order know-how cultivated through sales promotion support,

Today, we focus on two businesses, the Healthcare Sales Business and Healthcare Marketing Business.

As a result of the declining birthrate and the aging of society and the rise in social insurance premiums, the awareness of self-medication is further increasing.

The same thing as "food, clothing, and shelter" in people's lives is health and medical care.

Even if you wear good clothes, eat delicious food, live in a big house, you can not feel happiness and rich life unless you are healthy.

Our company wants to contribute to the world to Japan through business of Kenbi Biyo (Health, Beauty, Education, Healing, Medicine) business.

In the survey in 2016, the number of diabetes patients in Japan exceeded 10 million.

It is estimated that more than 110 million people will be in China, nearly 70 million people in India will be suffering from diabetes and will increase to 642 million people by 2040.

In order to solve such problems, we are collaborating with universities and research institutes and are promoting product development.

The spirit of Japanese hospitality, attentive and anxious three-way hospitality, service, manufacturing can also contribute to the happiness of the people of the world.

In order to realize high economic growth and give back to the forerunners and managers who enriched Japan, we will become a companywide company, we will continue to do our utmost to do business.